Case Study: Fresno Unified School District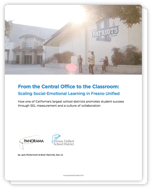 As California's fourth largest and the nation's forty-sixth largest school district, Fresno Unified School District supports the needs of more than 74,000 students—approximately 90% of which are students of color and 88% live in poverty—across 106 school sites every day.
For the past six years, the district has committed itself to deepening its use of holistic, student-centered approaches, and supports for students' social-emotional learning at every level of its system.
"We're in a whole new world and we should be measuring and supporting kids in their full and complete development."
Former Supterintendent Michael Hanson
Fresno Unified School District
In this case study, we present the structures and processes that leaders in Fresno Unified have used to create district-wide capacity to realize the promise of social-emotional learning for their students. We offer in-depth interviews with the educators and administrators that have led Fresno Unified's work to support social-emotional learning in the district.