Case Study: San Bernardino City Unified School District (CA)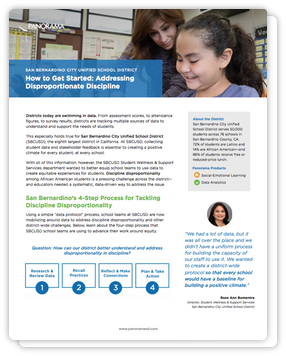 Districts today are swimming in data. From assessment scores, to attendance figures, to survey results, districts are tracking multiple sources of data to understand and support the needs of students.
This especially holds true for San Bernardino City Unified School District (SBCUSD), the eighth largest district in California. At SBCUSD, collecting student data and stakeholder feedback is essential to creating equitable experiences for every student, at every school—especially when it comes to addressing the key challenge of disproportionate discipline.

In this case study, you'll learn:
How the SBCUSD Student Wellness & Support Services department builds the capacity of school teams to address discipline diproportionality using data
The four-step "data protocol" process that SBCUSD uses to advance their equity work
How school teams are planning and taking action around discipline disproportionality
You'll also get access to two resources that SBCUSD uses for action planning: a
Data Inquiry Template
and a
Student Support Plan Template.
"In our past work looking at suspensions and office referrals, we focused on ensuring that students knew the rules and how to behave. Now, we're looking at what's missing in our environments that we need to build into our classrooms and schools."
Colleen Williams
Coordinator, Student Wellness & Support Services
San Bernardino City Unified School District