Case Study: Wake County Public School System (NC)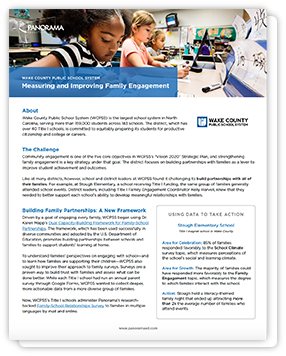 Schools and districts that get families more engaged find that their students earn higher grades, develop better social skills, and are more likely to graduate.
District leaders at Wake County Public School System (WCPSS) in North Carolina know this well. Improving family engagement is a key objective in the district's strategic plan, and school teams have adopted Dr. Karen Mapp's Dual Capacity-Building Framework for Family-School Partnerships to guide their engagement work.
In this case study, you'll learn how WCPSS is strengthening family engagement by pairing the Dual Capacity-Building Framework with family feedback surveys. You'll also learn how one Title I school in Wake County, Stough Elementary, is using survey data to focus their family engagement efforts and build deeper partnerships with diverse groups of families.
"At Stough Elementary, they've been learning from more families about how to best build family-school partnerships. The principal saw, in Panorama, that families could be better reached, and is now taking action on that data."
Kelly Harvell
Family Engagement Coordinator
Wake County Public School System