Share These Resources with Educators in Your District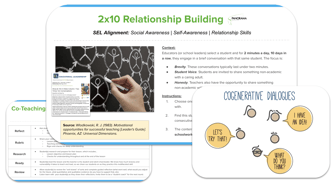 As districts prepare to support learning recovery over the summer months and into the fall, fostering the social and emotional growth of students will be a key element of accelerating academic progress.
Research has shown the effectiveness of SEL for supporting students' academic and long-term success. Re-establishing strong teacher-student relationships and fostering supportive, responsive learning climates will be critical to supporting students' learning recovery.
To help, we put together this toolkit with 5 Equity-Centered SEL Strategies for Back-to-School.
As a district leader, you can:
Incorporate these protocols and frameworks in planning and discussions to keep equity-centered SEL a priority in your reopening plans
Share these easy-to-implement activities with teachers and staff as examples of consistent, safe, and predictable routines they can adapt for in-person or hybrid learning
Pair these strategies with interventions and/or progress monitoring templates
What's Inside This Toolkit?
1. Keep | Start | Stop Framework for District Leaders
2. Culture Boxes Activity
3. Cogenerative Dialogues Protocol
4. 2x10 Relationship Building Guidelines
5. Co-Teaching Student Lesson Plan Guide

After downloading, you'll receive a description of each resource and links to download each individual resource and/or template.