Bring student, family, and staff voices into your learning recovery plans for back to school 2021-22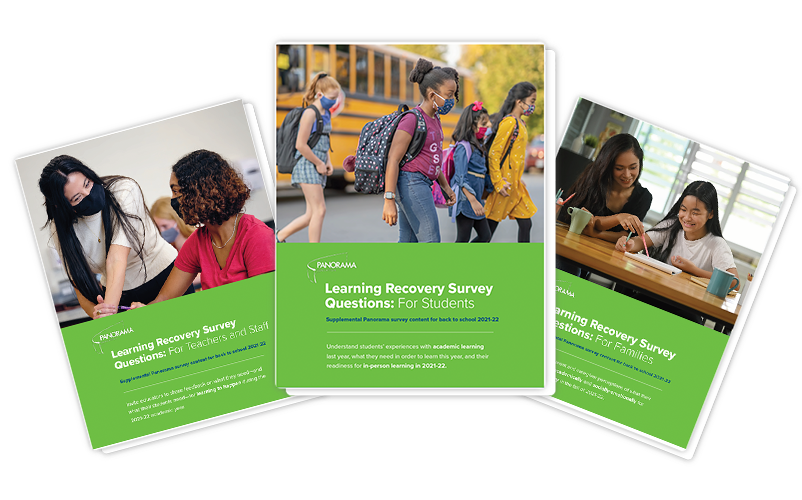 How confident do your students feel in their ability to learn this school year?
What support(s) do families believe that their children need to be successful this year?
How confident are teachers and staff in their ability to support students in person this year?

Understand and take action on what your community needs to feel supported academically, socially, and emotionally in the fall.
With Panorama's new supplemental survey content for 2021-22, invite students, families, teachers, and staff to share feedback on:
Learning Recovery: Reflections on learning from last year and its impact on learning this year
Readiness for Learning: Perceptions of readiness for in-person learning this year


In This Download, You'll Get Access to:
✔ PDF question banks for students, for families, and for teachers and staff—organized by topic area (Learning Recovery and Readiness for Learning)
✔ Free response and multiple choice questions that follow best practices in survey question design
✔ Recommendations for Panorama partners on how to supplement your fall surveys with this content
About Panorama Education
Panorama's feedback surveys, SEL platform, and MTSS intervention platform meet the criteria for allowable uses under ESSER I, II, and III. Today, 21,000 schools and 1,500 districts serving 12 million students trust Panorama, including the New York City Department of Education, Dallas Independent School District, and San Francisco Unified School District. Learn more about partnering with Panorama for feedback surveys→