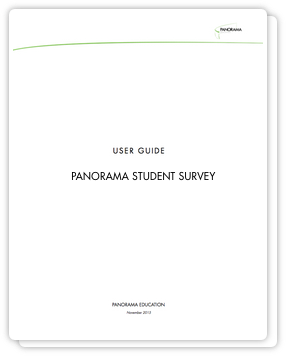 In this survey guide, you will get access to:
The complete Panorama Student Survey, featuring 19 school and classroom topics: Student Engagement, School Climate, Rigorous Expectations, and more.
A detailed description of how to use perception surveys in your classroom, school, or district to collect valid and reliable data.
A summary of the research conducted by Dr. Hunter Gehlbach, Associate Professor at the Gevirtz Graduate School of Education at the University of California, Santa Barbara (UCSB), and his research team at the Harvard Graduate School of Education.
About the survey
The Panorama Student Survey launched as a first-of-its-kind collaboration between Panorama Education and researchers at the Harvard Graduate School of Education to develop a valid and reliable survey tool to measure student perceptions of teaching and learning. Decades of research have shown that student perceptions strongly correlate with learning outcomes and can be an important improvement tool for schools and districts. Educators can use the survey to capture students' perceptions that can help guide self-reflection and improvement. Learn more →