Your Starter Kit for Implementing Restorative Practices in 2021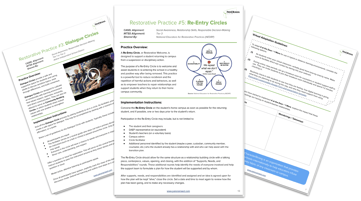 Restorative practices provide students and caring adults with an intentional, inclusive, and respectful way of thinking about and responding to conflicts that arise.
This toolkit includes a set of five restorative practices—developed by expert organizations and implemented by Panorama partner districts—complete with "how to" instructions and templates for use.
The strategies in this toolkit are perfect for:
District Leaders: Share this toolkit with your school leaders to start the conversation about the role of restorative practices in nurturing social-emotional learning and strengthening your MTSS.
School Leaders: Bring these Tier 1 ideas to PLCs, staff meetings, or Student Support team meetings to strengthen relationships in your school community, and consider partnering with organizations such as the National Educators for Restorative Practices to facilitate training for your team on Tier 2 and Tier 3 practices.
Restorative Practices Facilitators: Try these restorative practices (both in-person and virtually) to strengthen relationships and create safe learning spaces for students.
Practices Included in the Toolkit (With Instructions!):
✔ Proactive Circles
✔ Respect Agreements*
✔ Dialogue Circles*
✔ Restorative Inquiry
✔ Re-Entry Circles*
✔ BONUS: Restorative Justice Implementation Plan from Portland Public Schools (OR)
✔ BONUS: 28 "Get To Know You" Questions from NEDRP

*instructions for virtual adaptation are also included