Thursday, June 13, 2019 at
9:00am-2:45pm
H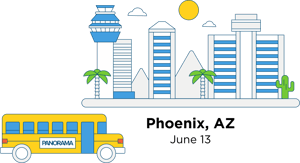 osted by:


When it comes to students' social-emotional learning (SEL) and academic growth, Arizona districts are reimagining what it means to support students.

That's why we're bringing together Phoenix-area leaders for a moderated discussion on how to take your SEL and tiered support frameworks—like MTSS and PBIS—to the next level.

You'll hear about scaling SEL measurement from district leaders at Simi Valley Unified School District (CA). Come enjoy catered breakfast and lunch and participate in facilitated peer-learning conversations about SEL, PBIS, and MTSS. Expect to leave with new connections and exciting new strategies for supporting students.
Featured Presenters:

Hani Yousseff, Assistant Superintendent of Education Services, Simi Valley Unified School District

Jamie Snodgrass, Coordinator of Curriculum and Assessment, Simi Valley Unified School District

Gabi Zerbib, Outreach Director, Panorama Education

Doug Hassett, Professional Learning Manager, Panorama Education
What:
Bringing MTSS and SEL to Life in Phoenix
When:
June 13, 9:00am-2:45pm
Where:
Mesa Public Schools (Room 303), 63 East Main Street, Mesa, AZ 85201
Agenda:
View here