A Step-by-Step Data Exploration Guide for District and School Teams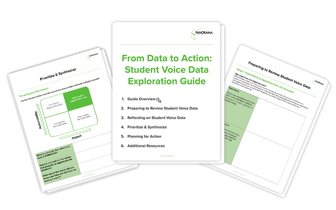 Student voice is more important than ever as we transition back to school for 2020-21.
Chances are, your school or district has gathered (or plans to gather) feedback through a student survey to understand what your students are feeling and experiencing academically, socially, and emotionally.
How can you take that student voice data, deeply understand what your students are telling you, and build their voices into school and district improvement plans?
Panorama's Student Voice Data Exploration Guide breaks the process down into easy steps—complete with prompts, templates, and worksheets that you can use right away in your data planning meetings.
You'll learn the exact process that educators at D.C. Public Schools, Portland Public Schools, and the Kentucky Department of Education have used to turn student voice data into strong action plans.
Table of Contents:
✔ Part 1: Preparing to Review the Data
✔ Part 2: Reflecting on Student Voice Data
✔ Part 3: Prioritize and Synthesize
✔ Part 4: Planning for Action
After downloading, the guide will be available in a Google Doc format. You are permitted to make a copy of the guide and customize for your own use.