600+ educators and administrators shared what MTSS implementation looks like in their schools and districts.
The results are in! In 2019, we ran our first survey on the State of MTSS in education. Four years later, our 2023 survey asked many of the same questions to discover how diverse districts now approach providing tiered supports.
Districts have evolved their MTSS implementation since we last ran our survey in 2019. They've also cited many common challenges still to resolve.
What's in the report:
Data on how districts are implementing tiered support frameworks today compared to 2019

What educators say are the biggest opportunities and challenges of MTSS today

Advice from your peers for those who will be leading MTSS work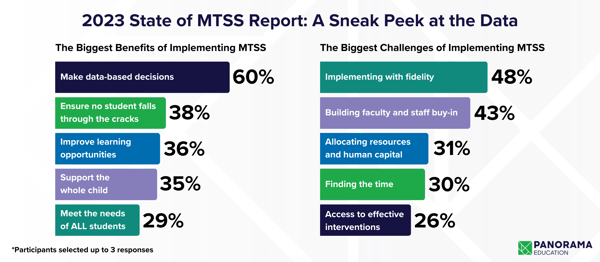 Whether you are a member of a school-based MTSS team or a district leader overseeing district-wide MTSS implementation, this report is for you.
We hope these insights into how schools and districts like yours are meeting the challenges of implementing tiered support systems will help you guide your own supports for all students.