Prioritize SEL in the transition to in-person learning.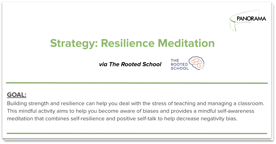 As we make the transition from remote learning back into classrooms, district and school leaders are facing a whole new set of challenges related to students' (and adults') social-emotional development and well-being.
While reopening and transition plans are taking shape differently in every district, the pandemic has reinforced that SEL is a core purpose of education – not just an additive to academic learning.
To help districts meet the needs of educators and learners during these periods of transition, we've bundled a set of SEL resources for supporting student and adult well-being in this new toolkit—complete with "how to" instructions and templates for use.
What's Inside This Toolkit?
Strategies for cultivating educator resilience and building adult capacity for SEL
Questions to facilitate ongoing, regular check-ins on students' SEL and well-being
Protocols designed to foster strong relationships between caring adults and students
Customizable templates for creating SEL Choice Boards and SEL Brain Breaks to strengthen Tier 1 supports
Trauma-informed activities for helping students heal and cope with stress